Releases: Shibalba - Stars Al-Med Hum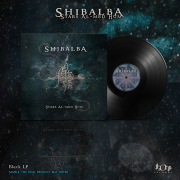 Artist:
Shibalba
Title:
Stars Al-Med Hum
Catalog number:
ARlp172
Format:
12"LP (black)
Genre:
Folk / shamanic
Origin:
Greece / Sweden
Release date:
2018
Availability:
Order here
---
Regular back vinyl + digital download code.
SHIBALBA was created by the members of black metal bands, Acherontas and Nåstrond. It differs greatly from the aforementioned acts, with main focus set on expressing shamanic, trance-like states, by the use of ethnic instruments and musical technics peculiar to religious rituals. In doing so, the band also incorporates contemporary synthesizers and guitar drones. Some of the more traditional instruments they use include Tibetan horns & singing bowls, bone & horne trumpets, darbukas, ceremonial bells & gongs as well as percussion instruments made of bones and skulls. The music is richly detailed and multidimensional, while its outcome is deep, unsettling and subconscious. As a whole, it offers an otherworldly voyage.
Tracklist:
Alignment I Fa Ra On
Alignment II TEI Re Re Re
Alignment III Ana Hat
Alignment IV La Ra
Alignment V Egi Pto