Releases: Die Hard - Conjure The Legions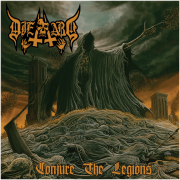 Artist:
Die Hard
Title:
Conjure The Legions
Catalog number:
ARlp101
Format:
12"LP (black)
Genre:
Thrash Metal
Origin:
Sweden
Release date:
2012
Availability:
Order here
Brand new album of Die Hard. 9 anthems of deathrashing mayhem!
Preview of the album to be seen here: http://www.youtube.com/watch?v=pRcxday45MY&feature=youtu.be
Limited to 394 copies black vinyl in gatefold sleeves. Includes a bonus track.