Releases: Possessed / Side Effect - Resurrection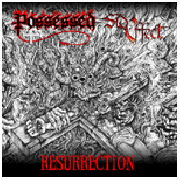 Artist:
Possessed / Side Effect
Title:
Resurrection
Catalog number:
ARmlp001
Format:
Death / Thrash Metal
Genre:
10"MLP
Origin:
U.S.A.
Release date:
winter 2003
Limited edition of 500 handnumbered copies. Comes with inlay including short bio and introduction written by J.B. Sr himself. Side A includes band's first demo, remasterred; Side B includes unreleased demo tracks and a first and exclusive track of Side Effect, a new band featuring Jeff Becerra of Possessed on vocals.