Releases: Aosoth - IV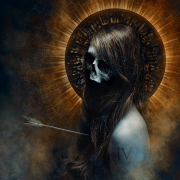 Artist:
Aosoth
Title:
IV
Catalog number:
ARmlp021pd
Format:
10\" gatefold MLP (picture disc)
Genre:
Black Metal
Origin:
France
Release date:
2015
Availability:
Order here
Limited to 333 hand-numbered copies picture disc vinyl in gatefold sleeves.
Recoded, mixed and mastered at BST Studio, the two-track EP will feature one new song and a remix from the last album, \"IV: Arrow In Heart\". On the new material, the band commented: Third and last of three appendixes, serving as bridges between our fourth full length record and the next. Artwork & layout by Somnyum.
Tracklist:
Side A: \"Broken Dialogue\"
Side B: \"Appendix C\"