Releases: Vorkreist - Sacrifice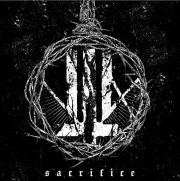 Artist:
Vorkreist
Title:
Sacrifice
Catalog number:
ARmlp022_b
Format:
10"MLP (splatter)
Genre:
Black/Death Metal
Origin:
France
Release date:
2016
Availability:
Order here
Limited to 105 hand-numbered copies white vinyl with fat black and grey splatter + insert with lyrics.
An exclusiv release featuring 2 brand new, exclusive tracks. Cover artwork & layout by Brianvdp. A release in memory of Marianne.
Tracklist:
Side A: "losing sanity key"
Side B: "lower (all is black)"