Wydawnictwa: Proscriptor McGovern's Apsû - Proscriptor McGovern's Apsû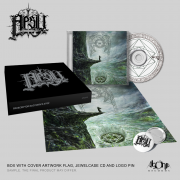 Artysta:
Proscriptor McGovern's Apsû
Tytuł:
Proscriptor McGovern's Apsû
Numer katalogowy:
ARcd239
Format:
Limited box CD
Gatunek:
Occult Metal
Kraj:
U.S.A.
Data wydania:
2021
Dostepność:
Zamów tutaj
Przedsprzedaż. Ten artykuł będzie dostępny od 26. listopada 2021.
Limitowany CD box zawierający przypinke z logo i flagę z okładką o wymiarach 60cm x 60cm.
Kiedy perkusista/wokalista Proscriptor McGovern (Russ R. Givens) rozwiązał Absu 27 stycznia 2020, jego główną intencją było odnowienie formuły tej 30-letniej formacji. Proscriptor McGovern's Apsû to naturalny produkt rozkładu Absu, a jednocześnie jej nowe wcielenie i bezpośrednia kontynuacja. Szeregi zespołu w dalszym ciągu zasila Proscriptor (Absu: 1992-2020), basista/wokalista Ezezu (Absu: 2009-2020) oraz nowi członkowie: wirtuoz gitary Vaggreaz (Possessed, Gruesome) i klawiszowiec Vorskaath (Zemial, Agatus). Nazwa zespołu, która jest jednocześnie nazwą albumu, wzięła się od fuzji imienia lidera grupy oraz nigdy niewydanej, ostatniej płyty Absu zatytułowanej "Apsû". Album zawiera charakterystyczne dla twórcy i jego stylu brzmienie, określane jako "mythological occult metal," wzbogacone o elementy muzyki psychodelicznej, fusion i vintage electronics.
Płytę nagrano w kilku różnych studiach, a ostateczny miks otrzymała w Dallas (Teksas) u boku Proscriptor'a i J.T. Longoria (Absu, King Diamond, Solitude Aeternus). Masteringu dokonał nominowany do szwedzkiej nagrody Grammy Karl Daniel Lidén w Szwecji. Gościnnie na albumie zagrali Ross Friedman (Ross The Boss,ex-Manowar), Rune Eriksen (Aura Noir, Vltimas,ex-Mayhem), Alex Colin-Tocquaine (Agressor) i The Dark (Agatus). Za okładkę i oprawę graficzną odpowiada ceniony polski ilustrator Zbigniew Bielak (Darkthrone, Portal, Watain).
Lista utworów:
I. Amenta: Accelerando: Azyn including Hierophantasmal Expounder
II. Esoterically Excoriating The Exoteric
III. Quasaric Pestilence
IV. Mirroracles
V. In-Betweeness Gateway Commuters
VI. Jupiter In Capricornus
VII. Dedicated To Thoth, But Azathoth Wasn't Listening (A Necroloquy)
VIII. Caliginous Whorl
IX. The Coagulating Respite
X. Prana: Therion: Akasha
XI. Tantrums Of Azag-Kkû
XII. Every Watchtower Within Is The Axis Of A Watchtower Without including Totemic Thresholds