Wydawnictwa: Acherontas - P S Y C H I C D E A T H - The Shattering of Perceptions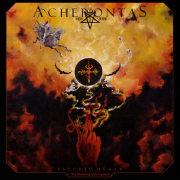 Artysta:
Acherontas
Tytuł:
P S Y C H I C D E A T H - The Shattering of Perceptions
Numer katalogowy:
ARcd209
Format:
Limited BOX CD
Gatunek:
Black Metal
Kraj:
Greece
Data wydania:
2020
Dostepność:
Zamów tutaj
Limitowany do 500 numerowanych egzemplarzy BOX CD z alternatywną okładką, z wydaniem CD w slipcase, naklejką, wysokiej jakości brelokiem na klucze z logo zespołu oraz metalową przypinką w odlanym logo Acherontas.
ACHERONTAS powstał w 1996 roku z inicjatywy V. Priest. Zespół należy do czołowych przedstawicieli tzw. drugiej fali greckiego black metalu. Jego brzmienie jest zainspirowane klasycznymi przedstawicielami gatunku i posiada subtelne naleciałości rocka lat 70-tych. Twórczość ACHERONTAS, począwszy od muzyki, przez teksty, aż po warstwę wizualną, jest przesiąknięta tematami okultystycznymi i filozofią wschodu, z którymi silnie identyfikuje się założyciel formacji. Określił on najnowszy album jako "monumentalny", a jednocześnie "najbardziej dojrzały i zróżnicowany" spośród wszystkich dotychczasowych dokonań grupy.  

"Psychic Death - The Shattering Of Perceptions" został nagrany w trzech różnych studiach w Grecji, Niemczech i Wielkiej Brytanii. Z jego produkcję, miks i mastering odpowiada George Emmanuel (Lucifer's Child, ex-Rotting Christ) z Pentagram Studio. Okładkę przygotował Chris Undirheimar (Blood and Fire Ritual Art Studio).
Lista utworów:
1. Paradigms of Nyx
2. Κiss the Blood
3. The Brazen Experimentalist
4. Psychic Death "The Shattering of Perceptions"
5. Coiled Splendor
6. The Offering of Hemlock
7. Sermons of the Psyche
8. Μαγεια των καθρεφτων (Magick of Mirrors)