Wydawnictwa: Ragnarok - Psychopathology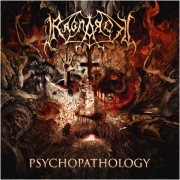 Artysta:
Ragnarok
Tytuł:
Psychopathology
Numer katalogowy:
ARcd150
Format:
Limited Box CD
Gatunek:
Black Metal
Kraj:
Norwegia
Data wydania:
2016
Limitowany do 666 numerowanych sztuk CD BOX zawierający bonusowy CD Chaos and insanity between 1994-2004, plakat oraz przypinkę z logo zespołu.

Nowy album studyjny norweskich black metalowców RAGNAROK ukaże się 25 marca nakładem Agonia Records. Tytuł albumu to "Psychopathology". Będzie to ósmy krążek w kareirze zespołu oraz pierwszy, w którym założyciel formacji i dotychczasowy perkusista grupy, Jontho, wystąpił w roli frontmana. Krążek został nagrany w Endarker Studio z basistą Marduk, Devo, za konsolą. Okładkę do nowego albumu zaprojektował Marcelo Vasco (p2design.com). 

Nowym perkusistą RAGNAROK został Dauden (Malignant). Za gitary odpowiada Bolverk, a za bass, DezeptiCunt. Ten ostatni kończy swoją przygodę z RAGNAROK - "Psychopathology" jest ostatnim albumem w którego nagraniach wziął udział.
Jak zapowiada frontman formacji, Jontho, powstały w odświeżonym składzie album będzie najlepszym w wieloletniej karierze grupy. "Psychopathology to efekt dedykacji i ciężkiej pracy. Jest to kolejny krok w ewolucji zespołu" - komentuje.
Lista utworów - CD#1:
1. Dominance and Submission
2. I Hate
3. Psychopathology
4. My Creator
5. Infernal Majesty
6. Heretic
7. Into The Abyss
8. The Eighth Of The Seven Plagues
9. Lies
10. Blood
11. Where Dreams Come To Die
Lista utworów - CD#2:
I.Pagan Land demo 1994*
1. Intro
2. Pagan Land
3. From The Darkest Deep
4. Et Vinterland I Nord
5. Hammerens Slag
6. Ragnarok
II.Various Unreleased tracks:
7. Et Vinterland I Nord**
8 .Under The Wings of Satan (demo)***
9. Fainted Eyes****
10. Live 2004*****
*Zarejestrowano w studio Haga w październiku 1994;
**Zarejestrowano w Sarpsborg , we wrześniu1994; utwór pierwotnie opublikowano na albumie kompilacyjnym Ørevox;
***Preprodukcja z albumu In Nomine Satanas, nagranego w studio Attic w Sarpsborg w 2001 roku;
****Cover Celtic Frost z kompilacyjnego albumu Order of The Tyrants 2003, wydanego przez Black Lotus Records;
*****Koncerty zarejestrowany podczas trasy koncertowej Blackdoor Miracle Tour w 2004 z Behemoth, Krisiun i Incantation. Bonus tylko na wersji CD.