Wydawnictwa: Aosoth - V: The Inside Scriptures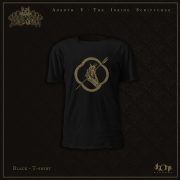 Artysta:
Aosoth
Tytuł:
V: The Inside Scriptures
Numer katalogowy:
ARts195
Format:
T-shirt + digital download code
Gatunek:
Black Metal
Kraj:
France
Data wydania:
2017
Koszulka marku Fruit of the Loom Valueweight z dużymi nadrukami + kod do pobrania albumu w wersji cyfrowej.

Wymiary koszulki są dostępne tutaj.
AOSOTH jest projektem wokalisty i autora tekstów MkM (założyciela Antaeus). Zespół łączy black i death metal. W odróżnieniu od gwałtownego stylu Antaeus, muzyka AOSOTH idzie w stronę dysharmonijnego i dusznego brzmienia. Autorem muzyki jest gitarzysta i producent Bst (The Order Of Apollyon, VI). Towarzyszą im basista INRVI (założyciel VI) oraz drugi gitarzysta Saroth (Hell Militia / Temple Of Baal). Sesyjnym perkusistą zespołu jest T.

"V: The Inside Scriptures" to ostatni rozdział koncepcji zapoczątkowanej przez dwa poprzednie albumy studyjne, "III" oraz "IV: Arrow In Heart". Nowa płyta różni się od nich przede wszystkim ogólną atmosferą nagrań. Te ostatnie trwały około trzech lat i były wielokrotnie przerywane z powodu osobistych wydarzeń w życiu MkM oraz Bst. W pewnym momencie AOSOTH rozważał porzucenie pracy nad albumem i rezygnację z jego wydania.   

Perkusja została nagrana w Hybreed Studios (Temple Of Baal, Glorior Belli, VI), a wszystkie pozostałe instrumenty w BST Studios. W tym ostatnim odbył się również miks i mastering. Autorem obrazu, który znalazł się na okładce, jest Benjamin A. Vierling (Nightbringer, Weapon). Za layout odpowiada Somnyum. Logo zespołu zostało przygotowane przez Erik'a Danielsson'a z Watain.
Lista utworów:
1. A Heart To Judge 
2. Her Feet Upon The Earth, Blooming The Fruits Of Blood 
3. The Inside Scriptures 
4. Premises Of A Miracle 
5. Contaminating All Tongues 
6. Silver Dagger And The Breathless Smile