Wydawnictwa: Demonical - Chaos Manifesto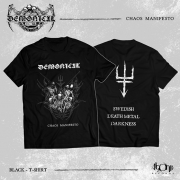 Artysta:
Demonical
Tytuł:
Chaos Manifesto
Numer katalogowy:
ARts202
Format:
T-shirt + digital download
Gatunek:
Death Metal
Kraj:
Sweden
Data wydania:
2018
---
Koszulka marki Fruit of the Loom Valueweight + kod do pobrania albumu w wersji cyfrowej.
Wymiary koszulki są dostępne tutaj.
Szwedzka brutalna, melodyjna, old-schoolowa death metalowa formacja DEMONICAL, powróci 23 marca z nowym albumem, który ukaże się sumptem Agonia Records.
Od agresywnego utworu otwierającego album "A Void Most Obscure", przez melodyny pierwszy singiel "Towards Greater Gods", pierwszy utwór w historii zespołu wykonany w języku szwedzkim "Valkommen Underang", czy wreszcie zamykający album numer "Nightbringer", Szewdzi udowadniają, że należą do zespółów z którymi należy się liczyć na ekstremalnej scenie muzycznej. Niemal pięcioletni okres jaki upłynął od czasu wydania poprzedniej płyty, "Darkness Unbound" (2013), zaowocował pomysłami udoskonalającymi dotychczasową formułę zespołu. Jak komentuje basista, Martin Schulman:

"Na 'Chaos Manifesto' występują pewne nowe elementy i pomysły z których do tej pory nie korzystaliśmy. Połączyliśmy siły z nowym producentem, by jeszcze lepeiej wprowadzić je w życie. Album ma w sobie coś z naszych wszystkich poprzednich płyt łącznie".

Nagrania "Chaos Manifesto" miały miejsce w 2017. Karl Daniel Linden (Terra Tenebrosa, Cult Of Luna, Katatonia) odpowiada za miksy oraz mastering. Okładka albumu została przgotowania przez Karmazid (Urfaust, Wolfbrigade, Blaze Of Perdition). Gościnnie na wokalach wystąpił Pehr Skjoldhammer z Alfhanne.
Lista utworów:
1. A Void Most Obscure
2. Towards Greater Gods
3. Sung To Possess
4. Välkommen Undergång
5. Torture Parade
6. From Nothing
7. Unfold Thy Darkness
8. Death Unfaithful