Wydawnictwa: The Moth Gatherer - The Earth Is The Sky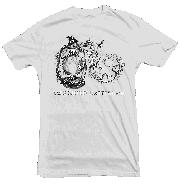 Artysta:
The Moth Gatherer
Tytuł:
The Earth Is The Sky
Numer katalogowy:
ARts143
Format:
T-shirt + digital download
Gatunek:
Atmospheric Doom/Sludge Metal
Kraj:
Sweden
Data wydania:
2015
Ekskluzywna biała koszulka marki fruit of the loom z dużym nadrukiem z przodu + kod do pobrania albumu w wersji cyfrowej.

Wymiary koszulki są dostępne tutaj.
Najnowszy album Szwedów.  Atmosferyczny doom metal z elementami sludge i post rocka. Nowy album jest jeszcze bardziej przestrzenny z dawką wyśmienitych progresywnych riffów i z solidnym, ciężkim brzmieniem. Album został w całości nagrany, zmiksowany i zmasterowany przez Karla Daniela Lidén (Dozer, The Old Wind, Switchblade, Terra Tenebrosa). Na płycie gościnnie udzielają się David Johansson (Kongh); Wacian (Code); The Cuukoo (Terra Tenebrosa); Thomas Jäger (Monolord). Rekomendacja dla fanów Neurosis, Breach, Cult of Luna, Kongh, Terra Tenebrosa.
LISTA UTWORÓW:
1. Pale Explosion
2. Attacus Atlas
3. Probing The Descent of Man
4. Dyatlov Pass
5. The Black Antlers
6. In Awe Before The Rapture