Wydawnictwa: Infernal War - Terrorfront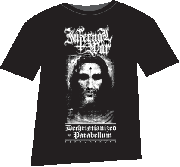 Artysta:
Infernal War
Tytuł:
Terrorfront
Numer katalogowy:
ARts030
Format:
T-shirt
Gatunek:
Black Metal
Kraj:
Poland
Data wydania:
2008, 2013 re-release
Reedycja koszulki Infernal War "Terrofront". Duże nadruki z przodu i z tyłu na solidnych, grubych koszulkach (195) firmy Fruit Of The Loom. Wszystkie koszulki są zafoliowane.
Wymiary koszulki są dostępne tutaj.