Wydawnictwa: Denouncement Pyre - Forever Burning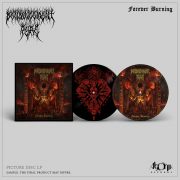 Artysta:
Denouncement Pyre
Tytuł:
Forever Burning
Numer katalogowy:
ARlp213_PD
Format:
12" picture LP
Gatunek:
Black/Death Metal
Kraj:
Australia
Data wydania:
2022
Dostepność:
Zamów tutaj
Limitowany do 250 ręcznie numerowanych sztuk pikczer dysk w okładce.
"Forever Burning" to czwarty album czteroosobowej formacji z Melbourne, w której skład wchodzą muzycy znani z Nocturnal Graves. Poprzedza go płyta "Black Sun Unbound" (2016). Gitarzysta i wokalista formacji D, opisuje album jako "monument black/death metalowego chaosu" oraz "hołd dla triumfu i udręki tych, którzy kroczą ścieżką ognia."

Płynę nagrano w studiu należącym do zespołu, poza perkusją, którą nagrał Joel Taylor w The Black Lodge Studio. Za miksy odpowiada Jarro Raphael z I-HQ (Nocturnal Graves, Order of Orias), a za mastering James Frazzetto z High Voltage Audio. Okładkę opracował Mitchell Nolte (Aborted, Mystifier, Lucifers Child). Nowe zdjęcia zespołu są autorstwa Elizabeth D'Aprano.
Utwory:
1. Forever Burning
2. The Liberating Fires Of Moloch
3. Tongues Stretched For Salvation
4. Darkness In The Eyes Of Apophis
5. Hung Like Swine
6. Burn This World And Start Again
7. The Opposer Of Light
8. Sunder The Living Temple