Wydawnictwa: Origin - Echoes of Decimation (OriginsOfOrigin)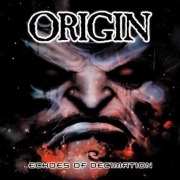 Artysta:
Origin
Tytuł:
Echoes of Decimation (OriginsOfOrigin)
Numer katalogowy:
ARlp179
Format:
12" black LP
Gatunek:
Death Metal
Kraj:
U.S.A.
Data wydania:
2019
Dostepność:
Zamów tutaj
Drugi album po raz pierwszy wydany na winylu. Limitowany do 375 ręcznie numerowanych egzemplarzy czarny winyl z wkładką z tekstami.
"Jestem podekscytowany mogąc ogłosić pnowne wydanie naszych pierwszych czterech abumów na płytach winylowych", komentuje Paul Ryan. "To pierwszy raz kiedy 'Origin' i 'Informis Infinitas Inhumanitas' ukazją w tym formacie. "Echoes Of Decimation" i "Antithesis" również będą ponownie wytłoczone, dla tych którym nie udało się zdobyć egzemplarza przy okazji orygnialnego wydania".
Tak o trzecim albumie mówi zespół: "Niestety mieliśmy wtedy więcej zmian składu niż byśmy chcieli, ale za to dodaliśmy nowe brzmienie gitar kiedy Clinton Appelhanz ponownie dołączył do zespołu (we wcześniejszych latach był naszym basistą). Zaczęliśmy stosować arpeggia i bardziej bezpośrednią perkusję. James King był wtedy perkusistą. Wytworzyły się z tego jedne z najbardziej narowistych brzmień w death metalu, przynajmniej w tatmtym czasie".  
Utwory:
1. Reciprocal
2. Endless Cure
3. The Burner
4. Designed to Expire
5. Cloning the Stillborn
6. Staring from the Abyss
7. Amoeba
8. Debased Humanity
9. Echoes of Decimation