Wydawnictwa: Psycroptic - The Watcher of All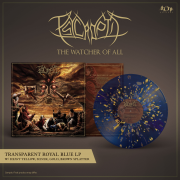 Artysta:
Psycroptic
Tytuł:
The Watcher of All
Numer katalogowy:
ARMLP029_4
Format:
12"MLP (royal blue w/ multicolor splatter)
Gatunek:
Technical Death Metal
Kraj:
Australia
Data wydania:
2020
Dostepność:
Zamów tutaj
Limitowany do 150 ręcznie numerowanych sztuk transparentny niebieski winyl z kolorowymi plamami + kod do pobrania albumu w wersji cyfrowej.
Australijscy techniczni death metalowcy PSYCROPTIC powracają z nową epką "The Watcher Of All". Pierwszy utwór zapowiadający mini-album, "A Fragile Existence", jest już dostępny wraz z teledyskiem, który nakręcił przez wieloletni współpracownik grupy, Wilson Bambrick. Wideo jest dostępne poniżej.
W tym roku PSYCROPTIC wkracza w 21 rok istenienia i nawet pandemia nie spowolniła ich prac nad nowymi kompozycjami. "The Watcher Of All" to pierwsza epka w karierze zespołu, która stanowi pomost między ostatnim albumem "As The Kingdom Drowns" (2018) i najnowszym, zaplanowanym na przyszły rok. 
Joe Haley nagrał i zmiksował "The Watcher Of All" w Crawlspace Productions. Will Putney zajął się masteringiem, a Shindy Reehal przygotowała okładkę. 

Tracklist:
1. A Fragile Existence
2. The Watcher Of All