Releases: Psycroptic - The Watcher of All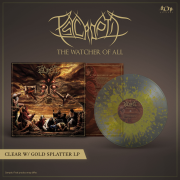 Artist:
Psycroptic
Title:
The Watcher of All
Catalog number:
ARMLP029_3
Format:
12"MLP (clear w/ gold splatter)
Genre:
Technical Death Metal
Origin:
Australia
Release date:
2020
Availability:
Order here
Limited to 250 handnumbered copies transparent 12" vinyl with fat gold splatter + digital download code.
Australia-based leading tech-death force PSYCROPTIC will return with a brand new EP "The Watcher Of All". Continually evolving and with a thirst for musical progression, the band have unveiled a bold new track "A Fragile Existence". Untamed & unique riffing, surgical drumming and a looming melody weave together a technically elaborate song-structure. To match the dark epic nature of the track, it is accompanied by a music video crafted by long time collaborator Wilson Bambrick. Scroll down to watch the video!
Seven albums deep and with absolutely nought chance of slowing down, PSYCROPTIC continue to reinvent themselves and the genre they are well entrenched in. All the band's previous work has got them to where they are at today. Completely comfortable in their own shoes, nothing to prove and being able to look back at their earlier years with pride, they are more than well poised to tackle with whatever lays ahead.
"The Watcher Of All" was recorded and mixed by Joe Haley at Crawlspace Productions. Will Putney mastered the EP and Shindy Reehal provided the apocalyptic artwork.

Tracklist:
1. A Fragile Existence
2. The Watcher Of All