Upcoming releases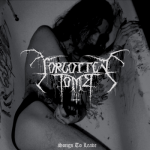 Forgotten Tomb - Songs to Leave
---
Available formats / pre-order:
Second re-release of the band's classic debut album from the beginning of the millennium. Widely considered as one of the precursors of the "depressive black metal" sub-genre and a true gem in its pantheon.
Anniversary edition celebrating 20 years of Forgotten Tomb's existence. Includes unreleased pictures and liner notes by Herr Morbid. Available for the first time in limited picture LP handnumbered in blood and clear LP handnumbered in silver ink.
Re-mastered.
Tracklist:
1. Entombed by Winter
2. Solitude Ways
3. Steal My Corpse
4. No Way Out
5. Disheartenment

Upcoming releases
Upcoming shows
LUCIFER'S CHILD
24/Mar/2019
Trikala @ Horns Up Festival, GR

ACHERONTAS
24/Mar/2019
Wroclaw @ Liverpool, PL

ACHERONTAS
25/Mar/2019
Łódź @ Magnetofon, PL

ACHERONTAS
26/Mar/2019
Banská Bystrica @ Rock klub Tartaros, SL

ACHERONTAS
27/Mar/2019
Rock Klub Nová Chmelnice @ Prague, CZ

ACHERONTAS
28/Mar/2019
Oberhausen @ Helvete, DE

ACHERONTAS
29/Mar/2019
Erfurt @ Club From Hell, DE

ACHERONTAS
30/Mar/2019
Aarburg @ Musigburg, CH

FORGOTTEN TOMB
31/Mar/2019
Minsk @ Club Brugge, BLR

DECLINE OF THE I
05/Apr/2019
Aarhus @ Royal Metal Fest, DK


---