Upcoming releases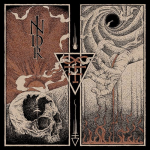 Blaze of Perdition - Near Death Revelations
---
Available formats / pre-order:
Vinyl re-press on black, silver and half'n'half vinyl (gold / transparent red).
"Near Death Revelations" album revolves around the past band's experiences.

BLAZE OF PERDITION's album was mixed and mastered at Satanic Audio (Thaw, The Dead Goats). The cover artwork was created by Mentalporn (Sinister, Behemoth, Decapitated, Origin) while the layout was prepared by Kontamination Design (Demonical, Archgoat).
Tracklist:
1. Królestwo Niczyje
2. Into the Void Again
3. When Mirrors Shatter
4. Dreams Shall Flesh
5. Cold Morning Fears
6. The Tunnel
7. Of No Light

Upcoming releases
Upcoming shows
VISCERAL DISGORGE
26/Feb/2020
Orlando, FL @ Soundbar

VISCERAL DISGORGE
27/Feb/2020
Atlanta, GA @ The Masquerade (Purgatory)

VISCERAL DISGORGE
28/Feb/2020
Raleigh, NC @ The Maywood

DERANGED
28/Feb/2020
Gavle @ CLUB STEAM, SE

VISCERAL DISGORGE
29/Feb/2020
Philadelphia, PA @ Voltage Lounge

VISCERAL DISGORGE
01/Mar/2020
Amityville, NY @ Revolution

CENTINEX
06/Mar/2020
Jönköping/Norrahammar @ Metal Fest, SWE

PESTILENCE
17/Mar/2020
Houston TX @ TX White Oak Music Hall

PESTILENCE
18/Mar/2020
Austin TX @ Come and Take it Live

PESTILENCE
19/Mar/2020
Dallas TX @ Gas Monkey


---