Wydawnictwa: Blaze of Perdition - Conscious Darkness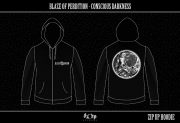 Artysta:
Blaze of Perdition
Tytuł:
Conscious Darkness
Numer katalogowy:
ARhsw032
Format:
hooded sweatshirt w/ zipper + digital download code
Gatunek:
Black Metal
Kraj:
Poland
Data wydania:
2017
Rozpinana bluza z kapturem.

Bluza marki Fruit of the Loom Heavy z ekskluzywnym nadrukiem.
Wymiary bluz są dostępne tutaj.
BLAZE OF PERDITION to jeden z najciekawszych zespołów black metalowych młodego pokolenia, z trzema albumami studyjnymi na koncie. Grupa charakteryzuje się kreatywnym i metodycznym podejściem do gatunku, stawiając na aranżacje oraz enigmatyczny klimat.

Pracę nad "Conscious Darkness" zostały ukończone w czerwcu. Okładkę przygotował Karmazid, a za layout odpowiada Kontamination Design. Miksy i mastering odbyły się w Satanic Audio Studio.
Lista utworów:
1. A Glimpse of God
2. Ashes Remain
3. Weight of the Shadow
4. Detachment Brings Serenity