Wydawnictwa: Hail Spirit Noir - Mannequins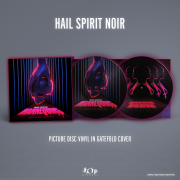 Artysta:
Hail Spirit Noir
Tytuł:
Mannequins
Numer katalogowy:
ARlp202_PD
Format:
12" picture LP
Gatunek:
Synthwave / Space pop
Kraj:
Greece
Data wydania:
2021
Dostepność:
Zamów tutaj
Limitowany do 250 ręcznie numerowanych sztuk pikczer dysk wydany w gatefoldzie z 8. stronicową dwnunastocalową książeczką.
"Mannequins" to piąty albumw karierze HAIL SPIRIT NOIR, który do tej pory dał się poznać przede wszystkim jako twórca muzyki z pogranicza progresywnego metalu i rocka, eksperymentalnego black metalu oraz szeroko pojętej muzyki psychodelicznej. Nowa płyta stanowi niemały zwrot na tle dotychczasowej dyskografii grupy, nawet biorąc pod uwagę jej wielowymiarowy charakter. "Mannequins" to album z gatunku synthwave i sci-fi pop, z elementami muzyki disco, całkowicie pobawiony metalowej czy rockowej instrumentacji. Tym samym wpisuje się w zupełnie nowy nurt muzyczny, do którego należą takie grupy jak Carpenter Brut, Perturbator, Gost czy Dance With The Dead.
W ujęciu HAIL SPIRIT NOIR, "Mannequins" może być postrzegany jako soundtrack do filmu grozy z lat 80-tych. Płyta została nagrana w trzyosobowym składzie: Haris i Sakis na syntezatorach oraz Cons Marg za mikrofonem. Miksami i masteringiem zajął się Dimitris Douvars. Fesq.project przygotował okładkę, a Nikos Tsiolis layout. Zespół nagrał wideo do tytułowego utworu.
Utwory:
1. 12-31-1985: Night Shift
2. Against Your Will, My Blade
3. Mannequins
4. 12-31-1985: Night Shift II
5. The Monsters Came From the Sky
6. Visitors of Horror
7. Enter Disco Inferno
8. Mannequins II
9. Alien Cell Charging
10. On the Loose Again
11. Ending Crashers
12. Ending Crashers II
13. Crossroads*

*Tylko Digi CD