Releases: Nocturnal Breed - Napalm Nights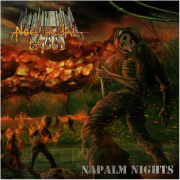 Artist:
Nocturnal Breed
Title:
Napalm Nights
Catalog number:
ARlp114_b
Format:
12" gatefold DLP (green)
Genre:
Thrash Metal
Origin:
Norway
Release date:
2014
Availability:
Order here
New album in 7 bloody years. Norwegians are coming back with a punch of epic, old school Thrash Metal album. Features guest appearance of Darkthrone's Nocturno Culto on vocals and guest guitar participation of A.E. Rattlehead. Features the original guitaris, recently reunitd with the band I. Maztor alongside S.A. Destroyer, Tex Terror and new guitarist Vidar Fineideth.
Limited to 100 copies double, military green vinyl with gatefold insert with lyrics, A2 poster and laser-cut Speed Metal Legions full color patch + a digital download exclusivelly via Agonia Records Webstore.

Track list:

01. The Devil Swept The Ruins (stream: http://youtu.be/aeUDEgNg4Bw)
02. Speedkrieg
03. Cursed Beyond Recognition
04. The Bitch of Buchenwald
05. Napalm Nights
06. Thrashiac
07. Dawn Campaign... Flamethrower Ridge
08. Under The whip
09. Dragging The Priests
10. Krigshisser (D.N.K.)