Releases: In Mourning - Monolith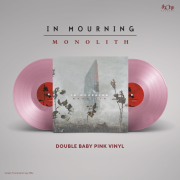 Artist:
In Mourning
Title:
Monolith
Catalog number:
ARlp192_V3
Format:
12" gatefold DLP (pink)
Genre:
Melodic Death / Doom Metal
Origin:
Sweden
Release date:
2020 re-release
Pre-order. This item will be available on the 24th of July 2020.
Limited to 100 hand-numbered copies double baby pink vinyl in heavy gatefold sleeves. Comes with A2 poster and digital download. High volume cut vinyl!
"Monolith" was originally released in 2010 to CD and LP. Since both formats have been out of print and are hard to come by, the demand for a reissue has become evident. In response to rising requests, Agonia Records will make "Monolith" available once again in CD and LP, but this time with a twist. 
IN MOURNING commented on the reissue: "Our old rock, Monolith, is turning ten years old this year... how weird is that? Anyhow, to celebrate it properly we're doing a re-release with the guys over at Agonia Records. It's already available on most digital platforms, there'll be a cool shirt with a naked guy on it and we're doing a nice new digipak for the cd. Although, the cornerstones of the party are the new vinyls, the new presses will be double discs so the sound quality will be improved and they'll come in glorious pink, smooth bone white and clear or classic old black".

IN MOURNING's last album,"Garden Of Storms", was released on Agonia Records late 2019. The album landed at #53 of Billboard Heatseekers Chart in its first week of release, marking the band's first ever appearance on charts in North America. Its release was preceded by a music video for the lead single "Black Storm" (available at this location) and followed by a European tour with Omnium Gatherum. 

Hailed by many as the heir to Opeth's melodeath throne, IN MOURNING was formed in the Swedish woods in the year 2000. Since then, the band has evolved, striving to refine its sound to what it is today. Musically, the group blends a broad spectrum of influences into a foundation of melodic death metal. Thrusting from doomy metal-riffs, blasting drumbeats and deep growling vocals, to calm breezes of clean flowing melodies and harmonies.
Tracklist:
1. For You to Know   
2. Debris    
3. The Poet and the Painter of Souls   
4. The Smoke   
5. A Shade of Plague    
6. With You Came Silence   
7. Pale Eye Revelation    
8. The Final Solution (Entering the Black Lodge)