Releases: In Mourning - The Weight of Oceans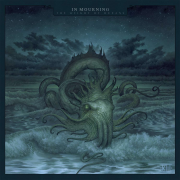 Artist:
In Mourning
Title:
The Weight of Oceans
Catalog number:
ARlp137_b
Format:
12" gatefold DLP (transparent blue)
Genre:
Death/Doom Metal
Origin:
Sweden
Release date:
2016
Limited to 125 handnumbered copies double transparent blue vinyl.

IN MOURNING's 3rd studio album available for the first time on vinyl. A vinyl release under license from Spinefarm Records. The cover artwork has been prepared by Kristian Wåhlin (Bathory, Tiamat, Amorphis, Dark Tranquillity).
In Mourning makes an aquatic-themed album that actually sounds oceanic and otherworldly while retaining their signature sound. Any melodic death fan will love this album, while death and prog fans can enjoy the heavier and more cunning side of the band. Mark up another captivating album by the band to enjoy for a lifetime. [The Metal Archives]

Tracklist:
1. Colossus
2. A Vow to Conquer the Ocean
3. From a Tidal Sleep
4. Celestial Tear
5. Convergence
6. Sirens
7. Isle of Solace
8. The Drowning Sun
9. Voyage of a Wavering Mind