Releases: Voidhanger - Dark Days of the Soul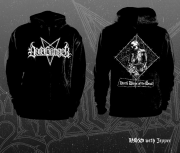 Artist:
Voidhanger
Title:
Dark Days of the Soul
Catalog number:
ARhsw035
Format:
HSW w/ zipper
Genre:
Black/Tharsh Metal
Origin:
Poland
Release date:
2018
---
Exclusive heavy cotton Fruit Of The Loom hooded sweatshirt with large prints.
See measurements of the HSW here
VOIDHANGER is a blackened death/thrash influenced three-piece of Zyklon(Infernal War), Warcrimer (Infernal War, Iperyt) and Priest (Massemord, Odraza). The band emerged in 2010 with a clear intention of "spreading darkness and negativity through metal music". Nihilistic and militant in its outcome, "Dark Days Of The Soul" follows suit two previous releases, the debut "Wrathprayers" (2011) and its follow-up "Working Class Misanthropy" (2013), rotating between punk infused cuts, aggressive hardcore, dbeat and "in-your-face" metal - all soaked in anger, bitterness and denial.

Conveying their hard-bitten attitude into words, VOIDHANGER commented: "Expect nothing but razor sharp riffs, hateful vocals and merciless drumming, that will turn your safe space into dust".

"Dark Days Of The Soul" was recorded, mixed and mastered in No Solace studio with M. of Mgła. Cover artwork designed by Mentalporn.
Tracklist:
1. Dark Days of the Soul
2. Death Wish
3. Naprzód Donikąd!
4. High on Hate
5. Man of Dark Secrets
6. The Void is Where the Heart is
7. War is Certain, Peace is Not
8. Hailing the Devil in Me