Releases: October Tide - Winged Waltz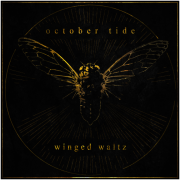 Artist:
October Tide
Title:
Winged Waltz
Catalog number:
set124
Format:
CD + T-shirt bundle
Genre:
Doom/Death Metal
Origin:
Sweden
Release date:
2016
Digipak CD + an exclusive t-shirt.

See measurements of the t-shirt here.
Formed in 1995 by Katatonia members, Jonas Renkse and Fred Norrman, OCTOBER TIDE spawned two, now-cult releases: "Rain Without End" (1997) and "Grey Dawn" (1999), before going on hiatus for over 11 years. Reunited in 2009, and since 2015 with a new full-time drummer Jocke Wallgren (Valkyrja, Astrophobos), the Swedes continue to push their vision of melodic death/doom metal to the next level. Executed with passion, the band's new album "Winged Waltz" is a showcase of what talent and expertise can bring to the table. OCTOBER TIDE are well-seasoned in their field of metal and are coming back in full swing, with their most emotionally charged material yet.
Alexander Högbom (vocals) commented on "Winged Waltz": "This is undoubtedly the best and most emotionally charged material October Tide has created, in my opinion. I know how much hard work Fredrik (guitars) has put into making this album and you can really feel the thought behind it all. I almost injured myself physically and was close to pass out a couple of times during the recording of the vocals. I gave it all to match the intense music and those powerful lyrics and I'm very happy with the result".

The successor to "Tunnel Of No Light" (2013) has been recorded, mixed and mastered in Wing Studios (Demonical, Centinex, Diabolical) in Sweden and produced by Sverker Widgren.

Tracklist:
1. Swarm
2. Sleepless sun 
3. Reckless abandon
4. A questioin ignite
5. Nursed by the cold 
6. Lost in rapture 
7. Perilous 
8. Coffins of November