Releases: Forgotten Tomb - Songs to Leave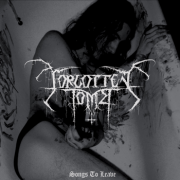 Artist:
Forgotten Tomb
Title:
Songs to Leave
Catalog number:
ARlp171
Format:
12"LP
Genre:
Suicidal Black Metal
Origin:
Italy
Release date:
2019 re-release
Availability:
Order here
---
Pre-order. The item will be available from the 19th of April 2019.
Regular black 12"LP + digital download code.
Re-release of band's classic album. Re-mastered.
Tracklist:
1. Entombed by Winter
2. Solitude Ways
3. Steal My Corpse 
4. No Way Out
5. Disheartenment

Upcoming releases
Upcoming shows
HALCYON WAY
27/Apr/2019
Dallas, TX @ Tree's, US

HALCYON WAY
28/Apr/2019
Oklahoma City, OK @ O.C. Limits, US

HALCYON WAY
29/Apr/2019
Kansas City, MO @ The Riot Room

HALCYON WAY
30/Apr/2019
St. Louis, MO @ Fubar, US

HALCYON WAY
01/May/2019
Indianapolis, IN @ Black Circle Brewery, US

HALCYON WAY
03/May/2019
Nasville, TN @ Little Harpeth Brewing

DEMONICAL
10/May/2019
Stockholm @ Slaktkyrkan, SE

ORIGIN
11/May/2019
Austin, TX Come and Take It Live

DEMONICAL
11/May/2019
Jönköping @ Klubb Dissonans, SE

HALCYON WAY
12/May/2019
Baltimore, MD @ Fish Head Cantina, US


---