Nadchodzące wydania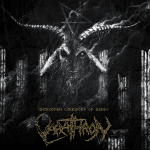 Varathron - Untrodden Corridors of Hades
---
Dostępne formaty / przedsprzedaż:
Reedycja na winylu (czarnym, srebrnym i złotym).
Najnowy album VARATHRON. "Untrodden Corridors of Hades" został nagrany i zmiksowany przez Kostas'a Kalampokas'a w Infinite Loop Music Studio w Grecji oraz zmasterowany przez Tom'a Kvålsvoll'a w Strype Audio (1349, Arcturus, Darkthrone, Emperor, Code, Ulver) w Norwegii. Za oprawę graficzną krążka odpowiada Mark Riddick (Absu, Mystifier, Nun Slaughter, The Black Dahlia Murder).
Rekomendacja dla fanów Necromantia, Rotting Christ oraz Beherit.
Lista utworów:
01. Kabalistic Invocation of Solomon
02. Realm of Obscure
03. Arcane Conjuring
04. Leprocious Lord
05. The Bright Trapezium
06. Death Chant
07. Delve Into the Past

Nadchodzące wydania
Najbliższe koncerty
VISCERAL DISGORGE
25.02.2020
Tampa, FL @ Crowbar

VISCERAL DISGORGE
26.02.2020
Orlando, FL @ Soundbar

VISCERAL DISGORGE
27.02.2020
Atlanta, GA @ The Masquerade (Purgatory)

VISCERAL DISGORGE
28.02.2020
Raleigh, NC @ The Maywood

DERANGED
28.02.2020
Gavle @ CLUB STEAM, SE

VISCERAL DISGORGE
29.02.2020
Philadelphia, PA @ Voltage Lounge

VISCERAL DISGORGE
01.03.2020
Amityville, NY @ Revolution

CENTINEX
06.03.2020
Jönköping/Norrahammar @ Metal Fest, SWE

PESTILENCE
17.03.2020
Houston TX @ TX White Oak Music Hall

PESTILENCE
18.03.2020
Austin TX @ Come and Take it Live


---